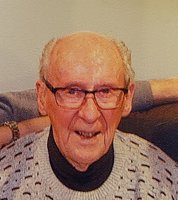 John J. Healy
John Healy died peacefully on Wednesday, May 8, 2019 in his home surrounded by his loving family. He was 91.
He was born in Queens, NY in November 1927 to Irish immigrant parents, Patrick and Margaret.
In 1945 he joined the army and served as an MP in Panama. After serving 2 years in the army he attended Manhattan College and graduated with a degree in Chemistry. While working in Manhattan he met and married the love of his life Renee and they were married in 1954. They moved to South Plainfield in 1956 where they raised their 4 daughters and resided there for the remainder of their lives.
John was an expert in the graphite industry. He worked for Joseph Dixon Crucible in Jersey City for 42years. After retiring from Dixon, he consulted for CGM in Brocton, NY where he was instrumental in opening and managing their graphite mine in Canada.
During his retirement years John and Renee traveled extensively. They loved cruises and also visited many different places throughout the country. He also enjoyed playing golf. John was an avid sports fan. He was a long time NY Giants season ticket and a lifelong NY Yankee fan. He loved to talk sports and everyone who talked to him was amazed at all the facts he could retain at his age.
Predeceased by his wife Renee in 2010, John is survived by his sister, Margaret Lenihan;
four daughters and their spouses, Patty and Ned Finn, Kathy and Bill Fenlon, Maureen and Bryan Disch and Ann and Mark Conklin, his 11 grandchildren and 3 great grandchildren.
Visitation will be held on Saturday, May 11, 2019 from 3-7pm in the McCriskin – Gustafson Home For Funerals 2425 Plainfield Ave. South Plainfield, NJ 07080.
Funeral Services will be held on Monday beginning at 9:15am in the funeral home followed by a 10am Mass of Christian Burial at Sacred Heart RC Church, South Plainfield.
Cremation Services will take place privately.
For additional information please visit www.mccriskinfuneralhome.com