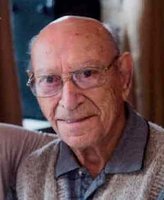 Salvatore Interdonato
Manchester Township- formerly of South Plainfield - Salvatore (Sal) Interdonato, 98, died Sunday June 30, 2019 at AristaCare at Manchester.
Born in Ali Terme Sicily, Salvatore came to the United States from Italy as a young boy. He was raised and had resided in NYC. He served in the U.S. Army during World War II in the 989th Engineer Treadway Bridge Co. He later settled in South Plainfield and retired in Manchester.
Working as a butcher for most of his life, Salvatore had worked in various shops located in NYC and North Jersey before spending most of his career as a meat manager in Shop Rite stores of South Plainfield and Dunellen. After his retirement, he worked part-time at Oak Tree Farms in South Plainfield.
Salvatore will be remembered by his loved ones for his kindness, patience, and sense of humor. He enjoyed spending time at the beach and shooting pool but was most proud of his family and spending time with them.
His beloved wife Mildred died in 2007. He is also predeceased by his siblings; Maria Salzman, Santi Interdonato, and Anthony (Nino) Interdonato.
Surviving are his three children; Angela Sessanta, Glenn Interdonato, Mariella Bubnick and her husband, Charles Bubnick. A brother, Robert (Sandra) Interdonato; five grandchildren, Christine Sessanta, Matthew (Danuta) Sessanta, Mark (Erika) Sessanta, Christopher (Kristi) Bubnick, and Alyssa Bubnick as well as three great grandchildren.
Funeral services will be held on Saturday, July 6, 2019 at 9AM in the South Plainfield Funeral Home, 2456 Plainfield Ave. South Plainfield, NJ. 07080 followed by a funeral mass in Sacred Heart RC Church, South Plainfield, NJ 07080 at 10AM. Interment will follow mass in Hillside Cemetery, Scotch Plains, NJ.
Family and friends are invited to join together for visitation on Friday from 4-8PM at South Plainfield Funeral Home.
In lieu of flowers donations can be made to https://semperfifund.org in Salvatore's memory.