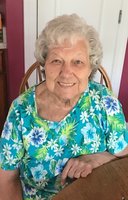 Theresa M. Fetz
Theresa M. Fetz, 84 died on Sunday, November 3, 2019 at home.
Born and raised in Manville, Mrs. Fetz resided in Dunellen and was a long time resident of South Plainfield before relocating to Souderton, Pennsylvania three years ago.
A fabulous cook, Theresa enjoyed spending time preparing meals and desserts for her entire family to enjoy. She enjoyed reading, crocheting, jigsaw and crossword puzzles, Sudoku, watching games shows and playing cards, in particular, Pinochle and Hearts. Additionally, Theresa was also known to have played the piano and loved to sing in church.
She worked for the former National Starch and Chemical Corp in Manville as a Senior Lab Technician for many years prior to her retirement. Outside of her family, who Theresa adored so dearly, she was also a longtime and devoted communicant of Sacred Heart RC Church in South Plainfield.
Predeceased by her brother Charles Esterhoy, Theresa is survived by her husband George of Souderton, PA; daughters, Lisa Fetz of Brick, NJ, Karen DeSantis (Donald) of Warminster, PA, Diane Fetz of Quakertown, PA, Katherine Brennan also of Quakertown, PA and Pamela Pollock (Frank) of Souderton, PA; sons, George Fetz of Matawan, NJ and David Fetz of Brick, NJ; sisters, Barbara Berstler of Belvidere, NJ and Marianne Troutman (Terry) of Souderton, PA; grandchildren, Christopher Brennan, Patrick Brennan (Alex DeGennaro), Nicole Brennan, Kyle Fetz, Juliann Fetz, Frank Pollock III, Luke Pollock, Zachary and Brett Pollock, great-grandson Cole Brennan and sister in-law, Lois Machado of San Jose, CA. Also surviving are numerous extended relatives and friends.
Funeral Services will be held on Friday, November 8, 2019 beginning at 9am in the McCriskin – Gustafson Home For Funerals 2425 Plainfield Ave. South Plainfield, NJ 07080 followed by a 10am funeral mass at Sacred Heart RC Church, South Plainfield.
Interment will follow at Hillside Cemetery, Scotch Plains.
Visitation will be held on Thursday, November 7, 2019 from 5-8pm in the funeral home.
In lieu of flowers, donations can be made in Theresa's name to St. Jude Children's Research Hospital www.stjude.org