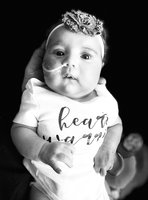 Laney Grace Stoeckel
It is with deep sorrow that the Stoeckel family announces the passing of their sweet baby girl Laney Grace as a result of Hypoplastic Left Heart Syndrome.
Although her time on earth was short she was fierce.
She is now in the hands of the Lord resting forever in Heaven.
The Stoeckel Family has extended an invitation for all to join with them for Laney's funeral mass at Saturday, October 17, 2020 at 10:15am at Sacred Heart RC Church, South Plainfield.
Laney's remains will be laid to rest immediately following mass at Hillside Cemetery Scotch Plains.
To begin assisting with their healing please considering making a donation in Laney's memory to the Children's Hospital of Philadelphia donor drive program.
Select DONATE at the bottom of the page then enter Laney Bug in the search option.