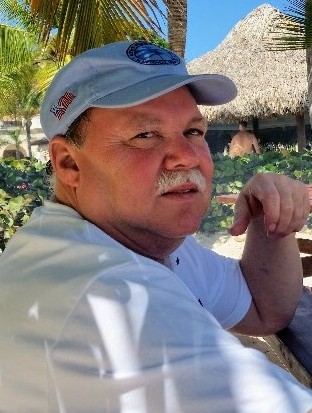 Richard Stoeckel
Richard Stoeckel, 68, passed away on Sunday, May 2, 2021 in the Haven Hospice at JFK Medical Center in Edison.
Born in Newark, he resided in South Plainfield for the majority of his life.
Rich worked for over 45 years at AT&T as a Supervisor for the Audio-Visual team where he was leader of the Belly Boyz before transitioning to Property Manager. He was also a part-time detective hunting down clues to the hot wing recipe from his favorite chicken wing restaurant Chic'N Wings after it mysteriously closed down in the late '80s. His passions ran deep. He once edited the Eddie Murphy filmThe Nutty Professor down to only the scene where the family passes gas at the dinner table. He would play it for everyone who came over, his face flush from laughter.
He was a connoisseur of food, heralding which pizza places had the finest crust, which spot on the boardwalk had the best fries, and the ultimate authority on whether a chicken wing was sufficiently "succulent". He was a fan of Yankees and Giants, unless they lost, in which case they stunk. He enjoyed golf, bowling, scratch-offs, Chianti, Miller High Life,NCIS, as well as a good nap.
Rich was known as a devoted grandfather, attending every sporting event for South Plainfield wrestling, baseball, soccer, and softball, cheering on his grandkids.
He loved films, all the classics, but especially sports movies like Rocky, Rudy, and The Replacements. He would shed a tear whenever a coach told his team to make the other side remember the day they played the Titans.
Rich leaves an indelible impression upon all his friends and family, and over a dozen nieces and nephews, all of whom he has shown The Nutty Professor scene to at least twice.
He will be remembered for all of his passions, his loyalty, his love for his family and friends, the jokes he told, and the many tricks that he has taught his beloved grandchildren.
He is predeceased by a granddaughter, Laney Grace Stoeckel and two siblings, Bernadette and Thomas Stoeckel.
Surviving are his wife of 42 years, Karen; daughter, Carly Krystopik and her husband Kevin of South Plainfield; sons, Rick Stoeckel and his wife Nellie of Park Ridge, IL., Dave Stoeckel and his wife Jennifer and Kyle all of South Plainfield as well as siblings, Jack Stoeckel and his wife Joan of Barnegat, James Stoeckel and his wife Annemarie of South Plainfield and Robert Stoeckel of PA. Also surviving are his eight grandchildren, Isaac, Logan, Vincent, Annabelle, Lilah, Grayson, Nicholas, and Ewan.
Relatives and friends are invited to attend the 10:30am funeral mass on Thursday, May 6, 2021 at Sacred Heart RC Church, 149 South Plainfield Ave. South Plainfield, NJ 07080.
Following mass Mr. Stoeckel will be cremated privately.
In Lieu of flowers please consider making a donation to further benefit The Children's Hospital of Philadelphia
https://chop.donordrive.com/index.cfm?fuseaction=donorDrive.participant&participantID=105245