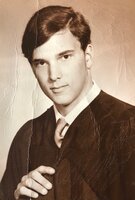 Paul T. Richter, Jr.
Paul T. Richter, Jr.
"Ricky"
1953 ~ 2021
Paul was born in 1953 in Plainfield, NJ son of Paul and Rose Richter of Warren, NJ. He graduated Watchung Hills Regional H.S. and attended the University of Charleston, Charleston W. Va. He followed in his grandfather McLean's and uncles' footsteps joining the Jersey Central Railroad, later Conrail where he worked as a conductor for over 44 years. He also served as a union representative for the United Transportation Union (UTU.)
He married Celeste Muniz and resided in Bridgewater, NJ. He enjoyed classic movies, watching golf, trying his luck at the casino, smoking cigars and loved his dog Gunner.
He is survived by his beloved wife Celeste, son Tony and his wife Lauren and granddaughter Emily Rose; sisters Kimberly Familletti and husband Philip, Kristine Smart and her husband Andrew, and brother William Richter and his wife Carrie and many nieces and nephews.
Visitation will be held at Middlesex Funeral Home, 528 Bound Brook Road, Middlesex, NJ 08846 on Sunday, October 24, 2021 beginning 1:00pm with a concluding prayer service at 3:45pm. To send condolences to the family, please visit www.MiddlesexFuneralHome.com.