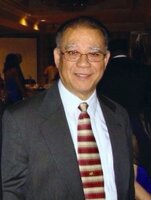 Clinton Patrick O'Sullivan
Clinton Patrick O'Sullivan passed away peacefully at home in the early morn of December 26, 2021.
Patrick will be forever loved and remembered by his wife Madge, his children, Sean, Roger, Tiffany and Taryn, his grandchildren, Danielle, Ashley, Zack and Kelsey and his great grandsons Julius and Cameron.
And forever in their hearts, his remaining siblings Marjorie, Vernie, Robert, Bobby, Ricky, Everett, Gary, Maxine and Kiddie. He was predeceased by sisters Monica and Janice and brothers Monty and Aubrey.
He will also be greatly missed but never forgotten by his cousins, nieces, nephews, extended family and dear friends.
The funeral will be held on Monday, January 3, 2022 at 11:00 am at Saint Francis Episcopal Church, 400 New Market Road, Dunellen.
While attendance is not limited, masks will be required.
Family and friends are also invited to join the service virtually at stfrancisdunellen.org