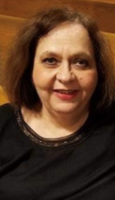 Karen R. Costantino
South Plainfield, NJ – Karen R. (Horky) Costantino, 69, passed away at Robert Wood Johnson University Hospital in New Brunswick on Sunday, August 7, 2022. Born in Newark, Karen lived in Edison when she married the late Vincent J. Costantino and they settled in South Plainfield to raise their family in 1972.
She worked for the South Plainfield Court System for twenty years, spending the last ten years as the Court Administrator. She enjoyed doing crossword puzzles, loved to read and could always be found with a Dunkin Donuts coffee in hand. She was an avid QVC shopper, and she enjoyed traveling down the shore to Seaside and Atlantic City, but above all things; Karen loved every minute spent with her family.
Predeceased by her husband Vincent J. Costantino and her father Frank Horky, Karen leaves behind her loving daughters; Tracy Scott and her husband Jonathan of Dunellen and Kim Baskiewicz and her husband Jesse of South Plainfield and her mother Audrey (VanNote) Horky. She will be missed dearly by her four grandchildren; Mark and Jason Scott and Kaitlyn and Karen Baskiewicz as well as her sister Gayle DePalma of West Long Branch.
Visitation will be held in McCriskin-Gustafson Home for Funerals, 2425 Plainfield Avenue, South Plainfield, NJ 07080 on Friday, August 12, 2022 from 4pm-8-pm and on Saturday, August 13, 2022 beginning 9:00am followed by a 10:00am funeral mass at Our Lady of Czestochowa RC Church in South Plainfield. Karen will be laid to rest beside her husband at Resurrection Burial Park in Piscataway.