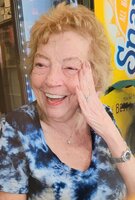 Marianne Gaudio
Marianne Gaudio, 80, passed away on Saturday, August 13, 2022 at home in Dunellen.
Born and raised in Newark, Marianne resided in Colonia, graduating from Woodbridge High School and also lived in Piscataway for 35 years before relocating to Dunellen in 1998.
She was part owner of the Homeside Hospice Company based in Clark for the past 18 years.
Marianne traveled the world over. She enjoyed spending time with her family, having dinner and drinks with family and friends, and the word "No" to anyone was rarely ever used.
In addition, Marianne loved her children and grandchildren with a ferocity unmatched and would do anything for each of them.
She is predeceased by her husband, Anthony, grandson, Eric Scherlacher, son-in-law, Ed Trimpert and brother, Ralph Ferraro.
Surviving are her daughters, Lynn Gaudio of Piscataway, Theresa Trimpert of South Bound Brook and Joanne Ozeransky and her husband John of Lebanon; sisters, Arlene Morrison of Barnegat Light and Elaine Yunker and her husband Bob of Metuchen; her grandchildren, Jessica Scherlacher, Nikki and Eddie Trimpert, Tara Fisahn and her husband Joey and Jack Ozeransky along with her first expected great grandchild.
A Memorial Gathering for relatives and friends will be held on Thursday, August, 18, 2022 from 4-7pm in the Piscataway Funeral Home 18 Stelton Rd. Piscataway, NJ 08854.