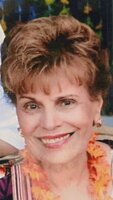 Anna M. Vastano
Piscataway, NJ – Anna Marie Vastano, 89, loving wife of the late Pat J., passed away on Monday, August 15, 2022 peacefully at her home surrounded by her family.
She was the last of her family; mother Marie, father Sebastian and brother Joseph all predeceased her.
Anna Marie leaves behind her three children; Joseph, Patrick and Lori as well as her only grandson Robert, Jr. She loved everyone in her family, especially her nieces, nephews, godchildren and friends.
She loved to attend mass at Our Lady of Fatima RC Church and was an avid animal lover. She enjoyed trip to the casino and will be missed by everyone that knew her. An honest, beautiful, wonderful wife, daughter, mother and grandmother that will live in the hearts of everyone's lives she touched.
Visitation will be at Piscataway Funeral Home, 18 Stelton Road, Piscataway, NJ 08854 on Saturday, August 20, 2022 from 6pm-8pm, Sunday, August 21, 2022 from 2pm-4pm and 6pm-8pm and on Monday, August 22, 2022 beginning 9:30am.
Funeral services will begin 10:00am in the funeral home on Monday, August 22, 2022 followed by a 10:30am funeral mass at Our Lady of Fatima Church in Piscataway. Mausoleum entombment will follow at Woodbridge Memorial Gardens.