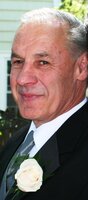 Dirceu Gulyas
Dirceu "Jesse" Gulyas, 78, passed away unexpectedly on Monday, August 15, 2022 at his home in North Plainfield. Born and raised in Brazil from Hungarian and Italian descent, Jesse immigrated to the United States in 1965. While he was attending night school in Plainfield to learn English, he met his wife Elena. In 1969, they got married and moved to Edison. In 1971, he founded Gulyas Custom Woodworking in South Plainfield. He was a third generation European Master Craftsman. He was known for his precise work and attention to detail. He collaborated with interior designers and his work has been showcased in
architectural magazines.
In 1979, the family moved to their permanent residence in North Plainfield, a house that he built himself. He was very good at repairing things and was always willing to help others when asked. He enjoyed being with his family and friends. His interests included photography, the outdoors, fishing and road trips. In his spare time he pursued his passion for soccer. Before coming to America, he was a professional goal keeper for the state team in Paraná, Brazil. He enjoyed playing for various soccer teams in central New Jersey and coaching soccer for youth and young adult teams.
Predeceased by his parents Zoltan and Dozolina (Dal Col) Gulyas; his brothers, Edison Gulyas and Divonsir Gulyas and sister, Dulce Gulyas; Jesse is survived by his wife of 52 years, Elena (Mitrano) Gulyas; children, Debbie and her husband Heinz, Dana, Eddie and his wife Lisa, and Mark and his wife Cathy as well as his grandchildren, Christopher, Gina, Nicholas, Francesca, Marco, Jonathan, Luciana, and Elena and a brother Mario Gulyas.
Also surviving are several extended relatives.
Visitation will be held on Monday, August 22, 2022 from 4-8 pm at the McCriskin-Gustafson Home for Funerals 2425 Plainfield Avenue, South Plainfield, NJ 07080. Funeral services will be held on Tuesday beginning at 9 am in the funeral home followed by a 10 am funeral mass at St Luke's Roman Catholic Church in North Plainfield. Entombment will follow at Holy Redeemer Cemetery Mausoleum in South Plainfield.