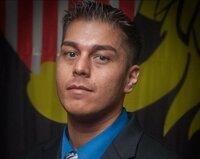 Christopher J. Lamberti
Formerly of South Plainfield – Christopher James Lamberti, 39, known to many as Chris or "Lambo", passed away unexpectedly at his residence in Mechanicsburg, PA on August 18, 2022. Born in Edison, Chris was a 2002 graduate of South Plainfield High School, and a 2006 graduate of Pennsylvania College of Technology, with an Associate's Degree in Business Administration and Bachelor's Degree in Management.
Chris worked in sales for many years with AT&T, and most recently with Shentel in Carlisle, PA. Growing up, Chris was active with Boy Scout Troop 324, and went on to achieve the highest of ranks in becoming an Eagle Scout. During his summers he was a camp counselor with the Boy Scouts at Camp Hart, of Valley Forge BSA Council in Pennsylvania. He also spent time as a Junior Firefighter in the cadet program for the South Plainfield Fire Department. In College, Chris was very active in his fraternity, Phi Mu Delta, and continued to be active in various roles on the Board as an alumni.
Chris loved life, he had a big heart and great sense of humor. Everywhere he went he made friends and all of those friends were family to Chris. He was a movie buff, a life-long NY Jets fan and enjoyed going to games with his Dad.
Chris leaves behind his loving parents James and Rose (Blanca) Lamberti, his sister Michelle Hertzler and her husband Ian of Ridgewood, and many aunts, uncles and cousins.
Visitation will be held on Saturday, August 27, 2022at McCriskin-Gustafson Home for Funerals, 2425 Plainfield Avenue, South Plainfield, NJ 07080 from 9:00am – 12:00pm. Funeral services will begin 11:30am in the funeral home followed by burial at St. Gertrude Cemetery located in Colonia.
In lieu of flowers, memorial donations in Chris' nameto benefit the scholarship fund at the Pennsylvania College of Technology may be sent to: https://www.givecampus.com/campaigns/24809/donations/new