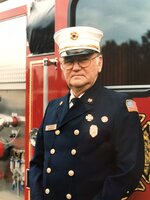 Walter E. Siegrist, Jr.
Piscataway, NJ—Walter E. Siegrist, Jr., 84, passed away on Sunday, August 21, 2022, at Morristown Memorial Hospital.
Born in Plainfield to the late Walter and Eileen Taylor Siegrist, Walter was a life-long resident of Piscataway. Growing up in Piscataway, he attended Dunellen High School where he met the love of his life, and wife of 63 years, Maryann Jacob. The two made the decision to stay in town and raise their family.
In 2005, he retired from S&W Quick Print, South Plainfield. Walter owned and operated the Print Shop for 13 years.
Walter joined the New Market Fire Company in 1960 and wasan active member for over 50 years. The department quickly became an important part of not only his life, but the life of his family as well. He held several rankings including Deputy Chief and Chief. He also served as an elected member of the Board of Fire Commissioners.
Predeceased by his brother William Siegrist, Walter leaves behind his wife Maryann Siegrist and three children, Walter Siegrist III and wife Sally of Piscataway, Scott Siegrist of Rowlett, TX, and Eileen Godine and husband Steven of Whippany. He will also be missed by his grandchildren, Margaret, Mathew, Jusztina, Tayler, Steven, Gina and Amanda, and his brother, David Siegrist, along with a host of extended relatives and friends.
A visitation will be held on Thursday, August 25, 2022 at the Piscataway Funeral Home, 18 Stelton Road, Piscataway, NJ, from 2 pm to 4 pm and from 7 pm to 9 pm.
The New Market Fire Company will be performing the Fire Fighters Bell Ceremony at the Fire Department, 801 S Washington Ave, Piscataway, NJ, on Friday, August 26, beginning at 12 pm. Family and friends are invited to join the family at the Funeral home beginning at 11 am.
Cremation Services will be held privately.
In Lieu of flowers, donations can be made to the New Market Fire Company, 801 S Washington Ave, Piscataway, NJ 08854, in Walter's name.