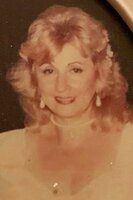 Dilia Amaya
Dilia Amaya, 84, passed away on Tuesday, August 23, 2022.
Born and raised in Bogotá, Colombia, Dilia arrived to the United States in the late 1950's living in New York City.
She lived in Bound Brook, Middlesex and Plantation, Florida before relocating back to Middlesex back in 2003.
Dilia enjoyed ballet, cooking and spending time with friends but most importantly she truly cherished the time she spent with her family particularly her grandchildren.
She is survived by her children, Maria Memolo and her husband Steve of Middlesex, Claudia DeMato and her husband Christopher of Belle Mead, Jorge Vergara and his wife Meredith of Basking Ridge and Albert Vergara and his wife Milly of Applethorpe, Queensland, Australia and her grandchildren, Steven Jr. Danielle, Erika, Anthony, Sarina, Jake, Joseph, Sophia, Nicholas, Olivia and Dylan.
Funeral Services will begin in the funeral home on Tuesday, August 30, 2022 at 9:15am followed by a 10:00am funeral mass at Our Lady of Mount Virgin RC Church, 600 Harris Avenue, Middlesex, New Jersey.
Cremation Services will follow privately.
Dilia's family will be gathering in the funeral home to receive relatives and friends on Monday, August 29, 2022 from 4-8pm.
In Lieu of flowers please consider making a donation to further benefit the Alzheimer's Association https://www.alz.org/