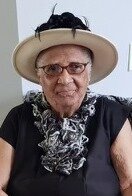 Ellen E. McKenzie
Ellen Eloise McKenzie, was born on October 10, 1927, in Wakenaam, Essequibo, Guyana, South America. She was the daughter of the late Peter Osborne and Elsie Dundrade, and was the eldest of four siblings who preceded her in death.
Being the eldest of four, her motherly instinct was installed at an early age. As time went on she got married to Charles McKenzie on January 9th, 1944. Most of her life Ellen was spent taking care of her eleven children. Her early years were spent in Bartica, Guyana. She later migrated to the US, and lived in NY, FL and in NJ, her final resting place.
On August 31st she went home to be with her Lord. She was preceded in death by Edward McKenzie, Dr. Michael McKenzie and Dominic McKenzie Sr.
She left eight surviving children ....Brenda, Maurice, Lancelot, Lawrence, Vernon, Alexandrina, Olinda, and Daniel. We are truly blessed to have had her as the matriarch of the entire family. She is also survived by her eldest grands - Rhonda Moore, Marcia Daniels, Michelle Belle McKenzie, Guy Belgrave, Stephen McKenzie, Angela Prowell, Denise McKenzie, Gary, Flloyd, Vernon Jr., Carl Mckenzie, Keira Guevara, Jose McKenzie, and Dominic Jr. Ellen left a legacy of 60 grands, 123 great grands and 16 great great grands. Mother in law of Brenda, Lynette, Francine, Sourgeny, Lelia, Ivor; The late Desiree, Lorna, Evelyn and Dave. Sister in law: Brenda McKenzie Loncke.
Ellen was very Blessed to have met and made an impact on her friends and her entire family. Because of her love and compassion we can carry on this legacy - We love you mom, grandma and friend.