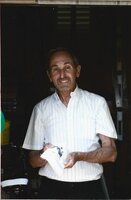 Stanley John DeTrolio
South Plainfield, NJ – Stanley J. DeTrolio, 86, passed away on Thursday, September 1, 2022, at St. Peter's University Hospital, New Brunswick, NJ.
Born in Newark, NJ to the late Carmine and Anna DeTrolio, Stan was raised in Belleville before moving to Newark with his wife, Patricia. The two ultimately settled in South Plainfield where they raised their family.
After High School, he enlisted in the United States Navy, where he proudly served for four years as an airplane mechanic.
After the military, Stan continued to serve his community by joining the Newark Police Department, before retiring after 25 years. Two years after retirement, he went back to work as a Macy's Security Guard. He stayed here for almost 20 years until his final retirement in 2009.
Stan was an active parishioner of Sacred Heart RC Church and was known as an excellent handyman. Above all other things, however, he was a loving grandfather to his four grandchildren.
Predeceased by his two sisters, Joan DeTrolio Dennis and Janet DeTrolio Stiles, he is survived by his wife, Patricia (Rummell) DeTrolio, Stanley leaves behind his children, Karen (David) Oliva of East Windsor, NJ, Sara DeTrolio of Philadelphia, PA, Joseph DeTrolio of Gypsum, CO and Steven (Brenna Jennings) DeTrolio of Portsmouth, NH; and grandchildren, Sydney, Addison, Anna, and Bella. He will also be missed by his sister, Katherine Cornell of Long Valley, NJ, sister-in-law Barbara Tyler, many wonderful nieces and nephews as well as a host of extended relatives and friends.
At the family's request, cremation services will be held privately.
A Memorial Mass will be held in the Holy Redeemer Cemetery Mausoleum, 1734 Clinton Ave, South Plainfield, NJ, on November 11, 2022, at 11 am.
In lieu of flowers, donations can be made to the South Plainfield PBA Local #100, 2480 Plainfield Ave, South Plainfield, NJ, or the South Plainfield Rescue Squad, 2520 Plainfield Avenue, South Plainfield NJ, in Stanley's name.