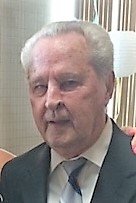 Obituary of Norman Gordon
Norman Gordon, 80, passed away on Wednesday, March 6, 2019 at the Hackensack University Medical Center in Hackensack.
Born in Perth Amboy, Mr. Gordon resided in Middlesex for the majority of his life.
A Veteran of the United States Navy, Mr. Gordon served our country from 1956 – 1959. During his active duty enlistment he served on the U.S.S. Grand Canyon.
As a longtime resident of the borough of Middlesex, Norm was a member the B.P.O.E. Lodge # 1488, American Legion Post 306 and also served on the Emergency Management team.
He is predeceased by his wife Georgene (Wielichoski) and is survived by his daughters, Tracey Pearson of Rahway, Tina Cordeiro and her husband Dave of Middlesex and Amy William and her husband Russ of Green Brook; brother, Peter Gordon of Middlesex; grandchildren, Patrick, Krystal, Stephen, Courtney, Christopher, Kyle and Kayla and great grandchildren, Rylee, Emily, Michael and Peyton.
Visitation will be held on Thursday, March 7, 2019 from 5-8pm in the Middlesex Funeral Home, 528 Bound Brook Rd Middlesex, NJ 08846
Funeral services will be held on Friday, March 8, 2019 at 11am.
Entombment will follow at Resurrection Burial Park, Piscataway.