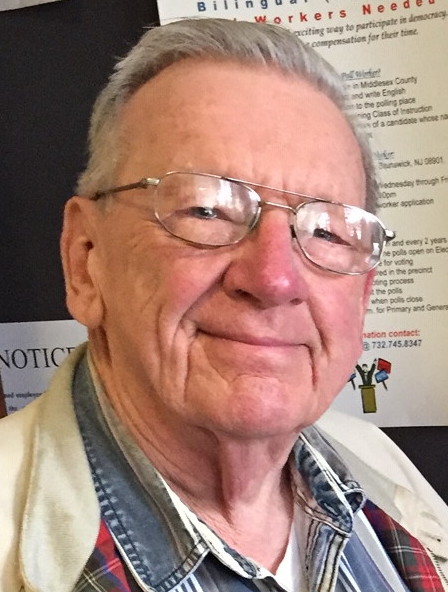 Obituary of Henry Seesselberg
Henry Seesselberg, 86, of Warren passed away Saturday, April 6 at the Eastern Star Home in Bridgewater. Seesselberg was a councilman in South Plainfield, as well as being active in the Jaycees, Boy Scouts and the South Plainfield Elks, where he served as an officer and was a Past Exalted Ruler. He was born in Staten Island to Dorothea and Dr. Charles Seesselberg, graduated from the Augustinian Academy and attended Villanova University. He was also trained at the RCA Institute in New York and graduated in 1960 with a degree in physics from Utica College of Syracuse University.
He served in Korea with the United States Army from 1953-1955.
He began tinkering with electronics in high school, building and repairing radios. He also owned a record player and recorder, which were used at many parties he was asked to attend.
Seesselberg had a career in electronics with General Electric, Lockheed, and the Singer Company. He was responsible for many patents in his career. Following his retirement, he worked for the Education Foundation of the Fashion Institute of Technology.
He had many interests, including camping, gardening and trains, along with music. He was a member of the New Jersey Live Steamers and operated his own train as well as repairing their signal system.
He was predeceased by his parents and brothers Charles and Peter, and is survived by his wife Marion, his sons William, Robert, Charles and Peter, along with his daughter Mary. He is also survived by eight grandchildren and one great-grandchild.
Arrangements were handled by McCriskin-Gustafson Home for Funerals with a private cremation. A memorial service will be held Friday, April 12 at 11 AM at St. Paul's Episcopal Church in Bound Brook. In lieu of flowers, donations may be made in his name to the charity of your choice.
Memorial Service
11:00 am - 12:00 pm
Friday, April 12, 2019
St. Paul's Episcopal Church
214 Church Street
Bound Brook, New Jersey, United States
Share Your Memory of
Henry