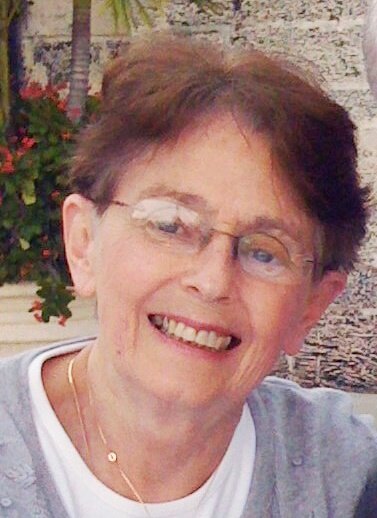 Obituary of Sheila O'Malley
Sheila O'Malley, cherished wife, mother, grandmother, great-grandmother, sister, and friend, passed away October 9, 2021, at her home in Plainfield after a long illness. She lived an outstanding life of service and kindness. Her dedication to her family, friends, and community was lifelong and admired by anyone who knew her. It is difficult to measure the countless lives made better for having Sheila there to love and support them through good times and bad.
Sheila was born Mary Sheila Keating in Scranton, PA, the third child of Edward and Eleanor (Collins) Keating. She grew up in Scranton, attended Marywood College, and received her Registered Nurse's license having graduated from Mercy Hospital School of Nursing. In 1958, Sheila married fellow Scrantonian Jack O'Malley and they moved to an apartment in North Plainfield, NJ. There she began a career that would last 40 years, caring for patients in the oncology ward of Muhlenberg Hospital, where her dedication, intelligence, and compassion earned her the respect of other nurses and doctors and would lead to her being named Nurse of the Year. Soon the couple moved to Plainfield, eventually buying a house not far from the hospital. Generous and caring, Sheila tended her patients on duty and off, even opening her home to a patient's family. Tending to the sick was more than a job for Sheila, it was a calling. In addition to patients, Sheila cared for more friends and neighbors in times of medical crisis than can be counted.
As she began her career in nursing in the late 50's, Sheila simultaneously started her family with three boys in three years followed by two girls. While raising this brood, creating a safe and loving home, and working as an oncology nurse (often on the night shift in those early years), she also found time for charitable endeavors in the community and in her long-time spiritual home, St. Mary's Church. Sheila was an original volunteer for Star Fish, Plainfield's food pantry, an organization she would serve for the rest of her life. Sheila also helped found and worked at St. Mary's soup kitchen, which fed thousands of meals to those in need and continues today.
Sheila also knew how to have fun. She was a founding member of St. Mary's Couples Club (remembered by all for dancing across the stage in her nurse's uniform in a spoof of Rowan and Martin's Laugh-In). She also loved playing cards with friends and family including Bourré, Bridge, and Hearts. Sheila and Jack enjoyed a lifetime of travel, beginning with teaching their kids to camp and enjoy the outdoors. When the children were grown, the couple enjoyed adventures around the world, often with a group of very close friends that included Noreen and Ed Sitar and Pat and Bill Kelleher, who were the very best of friends and at her side until the end.
Sheila will be deeply missed by her husband of 63 years, John F. ("Jack") O'Malley; her five children: John (Mary), Christopher (Laura), Michael (Mary), Marybeth (Craig), Kathleen (Michael); her daughter-in-law Nancy; her fourteen grandchildren: Kathleen (David), Meaghan (Patrick), John (Alanna), Emily (Xiao), Zachary, Abigail, Kerrianne, Thomas, Casey, Jacob, Daniel, Christopher, Ethan, Matthew; and her five great-grandchildren, as well as her brother John and her sister Ellie. Sheila is predeceased by her sister Ginny.
Funeral Mass will be held on Friday, October 15, at 10:30 am at Sacred Heart RC Church in South Plainfield, NJ 07080.
Entombment will follow at Holy Redeemer Cemetery, South Plainfield.
The funeral mass will be livestreamed and to participate virtually please visit https://www.churchofthesacredheart.net
In lieu of flowers, please consider making a donation in Sheila's name to the Alzheimer's Association (https://www.alz.org/), the Fisher Center for Alzheimer's Research (https://www.alzinfo.org/), or the Morris Laboratory at Johns Hopkins (https://labs.pathology.jhu.edu/morris/).
Funeral Mass
10:30 am - 11:30 am
Friday, October 15, 2021
Church of the Sacred Heart
149 South Plainfield Avenue
South Plainfield, New Jersey, United States
908-756-0633
Entombment
11:45 am - 12:15 pm
Friday, October 15, 2021
Holy Redeemer Cemetery
1734 Clinton Ave
South Plainfield, New Jersey, United States
908-822-5892
Share Your Memory of
Sheila