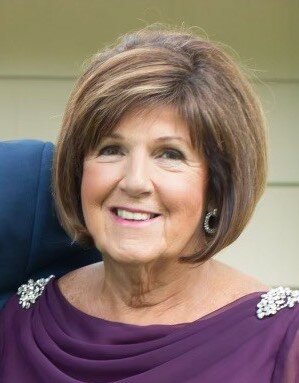 Obituary of Roseann M. Miller
Please share a memory of Roseann to include in a keepsake book for family and friends.
Roseann M. Miller (nee Butterfield) passed away peacefully at home on Saturday, January 15, 2022, surrounded by the people she loved the most and who loved her the most – her family.
Born in New York City to John and Josephine Butterfield, Roseann was raised in Perth Amboy, NJ. It was there that Roseann's incredible ability to make everyone feel special manifested itself. She would go on to be her senior class president at Perth Amboy High School and meet and fall in love with her best friend, soulmate, and high school sweetheart, Joe Miller.
During that time period, she worked at Plaid N Tweed, a fashion store in Perth Amboy. The experience sparked her own love for fashion and would lead to her iconic signature style that was all her own. Nobody coordinated clothing the way Roseann did. Her ability to match each item perfectly from her headband down to her shoes and jewelry was truly a talent. In many ways, she used her clothes as a representation of who she was– bright, cheerful, conservative but also playful and fun.
In the summer of 1970, Roseann and Joe married and made the move to Fort Lee in Virginia when Joe was drafted into the United States Army. Together they endured his year-long deployment to Vietnam writing to each other constantly and sending photos with inscriptions of their devotion on the back. "I love you madly," she wrote.
When Joe returned from Vietnam they settled in Perth Amboy and Roseann continued her work at Perth Amboy Savings Bank honing her business and financial management skills and making every visitor feel more like a friend than a customer. Together with Joe she helped found and run Miller Advertising for 47 years and headed their subsidiary company Butterfield Co., which was named in honor and admiration for her late father, John, who she loved and missed deeply every day since his passing.
Roseann loved working alongside Joe. Never falling into a routine, they always found ways to show one another how much they loved each other. Roseann loved her weekly beach trips to Spring Lake with Joe. For her, it didn't get better than walking the boardwalk hand-in-hand with Joe and feeling the sun on her face and breathing in the ocean air together.
For Roseann, nothing was more important than family and being a good mom. But Roseann wasn't just a good mom she was an incredible mom to Tara, John, and Tiffany. Everything she did, every decision and sacrifice she made was for her kids and her family. She gave them everything, was their best friend, biggest supporter, loved them unconditionally, and had an amazing way of always making each of them feel special.
When her children chose their own partners and married, Roseann's heart grew even bigger wrapping Frank, Nick, and Nikki in a love that only Roseann could exude. She loved them each immensely and was so proud and grateful that they were part of her family.
Roseann was special. She was the best wife and mom in the world and the kindest, most giving, and selfless person to everyone. Words can't express the feeling you got from being around her. Her love, kindness, positivity, and happiness were infectious. Her smile could light up a room and give a sense of comfort you didn't even know you needed but did.
Roseann's greatest gift was her grandchildren, Ava and Dylan. Nothing gave Roseann more joy than being their Nana. She loved them both so much and spent every minute she could with them. She never missed a sports game or an opportunity to cheer them on with her signature catchphrase "Your way!" earning her the title of South Plainfield's biggest fan. Some of her best times were the moments she got to share just with them and her before and after school visits. Roseann loved their yearly trips down the shore together where she would bring her chair down to the water to watch them play always reminding them "not too far" and to "always go in front of the lifeguards." For Roseann, there was no greater joy or feeling of love than hugging Ava and Dylan and being such a big part of their lives.
Roseann lived in Edison, NJ for nearly 40 years before moving to be closer to her family and retiring to sunny South Plainfield, NJ where she overlooked Skene Drive and her "Blancheroni" (the family dog). She is predeceased by her parents John and Josephine Butterfield.
She is survived and deeply missed by her soulmate and beloved husband of 51 years, Joseph; her three children, Tara Fusaro and her husband Frank, John Miller and his wife, Nikki, Tiffany Miller and her husband, Nicholas Cirilli; two grandchildren, Ava Rose and Dylan Joseph Fusaro and five siblings, John Butterfield and his wife, Martha of Murrieta, California, Joan Butterfield of Little Egg Harbor, NJ, Janice Papp and her husband, Jerry of Jupiter, Florida, Rita Chamberlin and her husband, Jack of Port St. Lucie, Florida, and Laurie Lippiello and her husband, Dan of Tinton Falls, NJ.
Also surviving are many extended family members and dear friends.
All are invited to join together for visitation on January 19, 2022, at the McCriskin-Gustafson Funeral Home, 2425 Plainfield Ave. South Plainfield, NJ 07080 from 5 – 8 PM.
A funeral mass will be celebrated on January 20, 2022, at the Church of the Sacred Heart, 149 South Plainfield Ave., South Plainfield, NJ 07080 at 10:30 AM.
Entombment will follow the mass in Good Shepherd Mausoleum at St. Gertrude's Cemetery in Colonia, NJ.
In lieu of flowers, donations in her memory may be made to St. Jude Children's Research Hospital.
For more information or to leave a message of condolence, please visit her webpage at www.mccriskinfuneralhome.com.
Share Your Memory of
Roseann