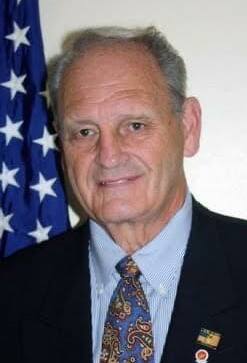 Share Your Memory of
Richard
Obituary of Richard Frank
South Plainfield – Richard "Dick" Frank, 85, died Wednesday February 16, 2022 at Ashbrook Nursing Home in Scotch Plains.
Born to the late William and Nan (Goss) Frank in Bridgeport, CT, Dick grew up in Westfield, later graduating from Scotch Plains Fanwood High School, Class of '55. He enlisted with the United States Marine Corps and was stationed at the US Embassy in Paris, France. Srgnt Frank was also on loan to the US State Dept for Fox Company Detail, and courageously completed covert missions as a paratrooper.
After Dick's honorable discharge, his love for his country and community continued. He became a community advocate for the Borough of South Plainfield holding position of a Councilman. He ran as candidate for Middlesex County Freeholder(R). Dick was also involved with Veteran Affairs, was a former Commandant of the J.J. Gardner Detachment of the Marine Corps League, and former Commander of the American Legion Post #243 Chaumont.
Despite all Dick did for his community, his family came first. In his younger years, Dick enjoyed introducing his wife and children to the stunning National Parks across the United States through camping. He loved boating and was also an avid archer, teaching archery & hunting skills to his children. Earlier in his career he was General Manager of Bowcraft Playland & Ski Shop. Prior to retirement, Dick was Manager at the Department of Motor Vehicles, South Plainfield.
Predeceased by two children, Carolyn (12) and John William (10) Frank, and brothers Bill and Carl Frank; surviving are his wife, Diane (Johnson) Frank of South Plainfield and two children, Justine Frank of Ewing, NJ and Richard E. Frank of Provo, Utah. He will also be missed by his grandchildren, Jonathan, Axander(AJ), Aubrey and Jaxon Frank; two great grandchildren, Alexia and James Frank, Sister-in-law Kathleen Hannon and Brother-in-law Robert Hannon, Sister-in-law Denise Williams and Brother-in-law David Johnson, and his nieces and nephews Keri & (Billy), Sunny & (Chris), and Joshua, Megan & (Chris), Jennifer & Bobby, as well as their beloved children collectively whom he loved dearly ~ Brett, Tyler, Harrison, Sloane, Sebastian and Charlotte .
Funeral services will be held on Saturday, February 26, 2022 guests may arrive at 9:30AM and Service will be held from 10AM - 11AM in the Church of Jesus Christ of Latter Day Saints, 1781 Raritan Road, Scotch Plains NJ 07076. Burial will follow in the Frank Family plot of Tranquility Cemetery, Green Township. Repast Arrangements to be announced at Service.
Family and friends may gather in McCriskin – Gustafson Home For Funerals, 2425 Plainfield Avenue, South Plainfield NJ 07080 from 2-4PM & 7-9PM Friday February 25th (with Military Honor Guard presenting at 7:30pm.