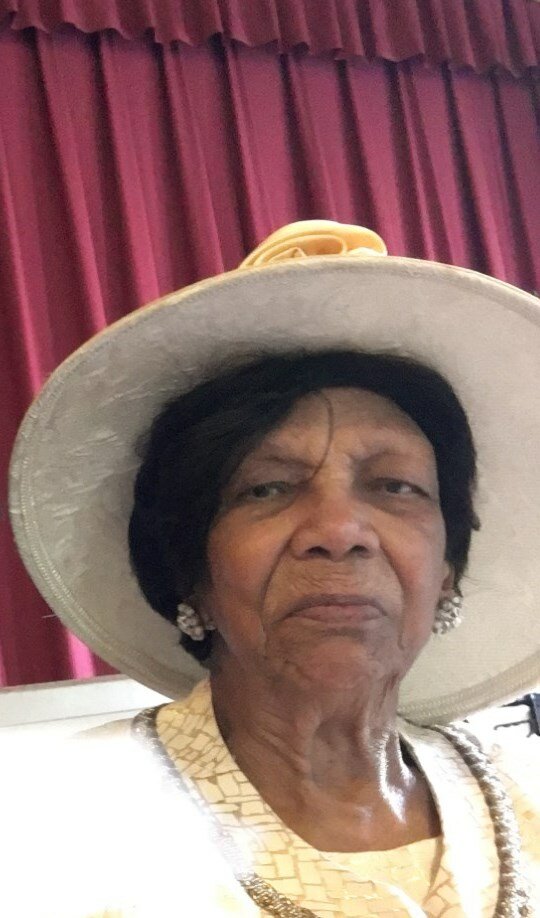 Obituary of Mildred Crawford
Please share a memory of Mildred to include in a keepsake book for family and friends.
On Wednesday, March 1, 2023, Mildred Agatha DeAndred Hughes Crawford, known affectionately by her family as Venie, returned to the lord at the age of 102. Born on October 11, 1920, to the late Mildred and William Hughes in Fyrish, Berbice, Guyana, Mildred lived a remarkable life that was defined by her determination, hard work, and independence.
As a young woman, Mildred broke free from the constraints of the time and became a trailblazer in her community. She was a go-getter, and her work ethic and entrepreneurial spirit were evident from an early age. Whether she was supervising the kitchen at the Albion Estate, farming and selling produce, or designing stunning hats and wedding gowns as a seamstress, Mildred always approached everything she did with pride and passion. She lived out the words of Philippians 4:13, finding strength in Christ to pursue her aspirations and thrive.
Later in life, Mildred's adventurous spirit and determination led her to embark on a new chapter, immigrating to the United States at the age of 76. With her ambition, she became a US citizen at 82, a testament to her unwavering commitment to achieving her goals. Throughout her time in the US, Mildred formed many meaningful friendships through her participation at Piscataway Senior Center and her involvement in communion at the Plainfield, New Jersey Grace Episcopal Church. Mildred's bold and respected presence left an unforgettable mark on those fortunate enough to cross her path. With a kind heart, she offered uplifting words of encouragement to those in need and brought laughter and joy into the lives of those around her with her humor. She was a devout Christian who prayed for her loved ones and for peace in our troubled world, embodying a deep sense of empathy that inspired all who knew her.
Through her 4 children – Genevieve Benjamin, Wilmot McKenzie, Brenda Loncke, and Frank McKenzie, 13 grandchildren, 18 great-grandchildren, and 2 great-great-grandchildren, Mildred's legacy lives on. Although she has transitioned, we are comforted by the memories she leaves behind. May we be strengthened by the knowledge that God is with us always, guiding us on our journey. Rest in peace, Mildred.
A visitation will be held on Saturday, March 11, 2023, at the Christ United Methodist Church, 485 Hoes Lane, Piscataway, NJ, from 10 AM – 11 AM.
A funeral service will be held at the church, beginning at 11 AM.
Interment will follow at Resurrection Burial Park, 899 East Lincoln Ave, Piscataway, NJ.
Livestream services will be hosted by Christ United Methodist Church. To view the services, please visit the Church's facebook page, www.facebook.com/cumcpiscataway, at the time of the service
Share Your Memory of
Mildred